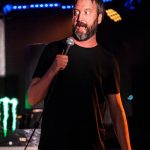 So I am planning on blogging here more regularly and I want to revitalize this website as a place to congregate and share ideas.  I also want to have some more fun on the road.  Let's make this a more interactive experience.
I am going to start giving away tomgreen.com stickers.   All you have to do is come to my show and ask me for one personally.   Then you have to promise to stick it somewhere cool where people will see it.
The idea being that if you ask me for a sticker then I know you have read this post.  Interactive and fun!  Tell your friends on social media and in REAL life to visit and bookmark this page.  And come see me on the road.
I hope you are enjoying the new revamped website and all the mobile functions.   Now you can watch videos and visit the site from your phone better than ever before!  Thanks for stopping by!!  And please leave a comment on this blog and on some of the videos also!  Let's make this place positive and fun!
Rock on gang!  And thank you for the consistent support over the years.  This marks the 20th year of tomgreen.com – pretty amazing and cool!  Here's to another 20 years!   Cheers!
Tom